Social media has become an inseparable part of our lives, and most of us can't imagine a future without social networks within reach. The ease of letting the world know your thoughts, feelings, opinions, and even what you're having for lunch today has become a day-to-day activity for millions of people, and it's no wonder that corporations and brands are taking their social media strategies more seriously than ever.
Social media contains a wealth of opportunities for marketers to push their products and services to the world, and it isn't an easy feat. Great social media marketing takes careful planning, analysis, curation, and management to work.
As overwhelming as it might sound, it's 2020 and there are tons of tools out there to help you with your social media marketing. Read on to find the best social media tools to add to your toolkit:
If you're a content marketer, BuzzSumo is the tool for you. BuzzSumo allows you to research the topics that are currently trending online, making it easy for you to jump on the bandwagon and come out with the right content at the right time. The tool also allows you to search topics by platform, and see what's doing well on Facebook vs. Twitter, for example. BuzzSumo also lets you find the most popular influencers online, and seeing who is driving the most engagement. Lastly, it also lets you connect your own social pages to monitor your engagement, reach, and impact.
We've written about Canva before but we think it's good enough to be in this one too. Canva is an online design tool that allows you to design pretty much any social media visuals you'd need. They have a plethora of ready-made templates to choose from, which makes it easy for you to design things like blog banners, Facebook ads, infographics, posters, and even animated posts. Their interface is simple to use, they have a library of thousands of stock images and icons to use, and the result? A social media-ready graphic in minutes.
Biteable boasts the ability to 'make better videos than your competitors. On your lunch break.' As bold a claim as that might be, they hold true. Biteable is a tool that helps you create short, bite-sized videos for social media, and it's as simple as it gets. Use their library of thousands of stock videos and templates to make your video look as professional as it can be. Upload your own images and clips, then download your video straight onto your device or share it to your socials.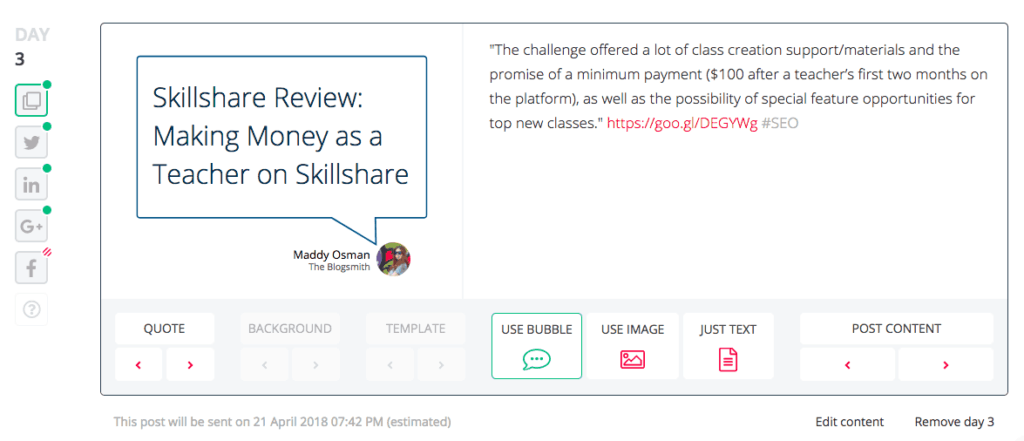 As an article writer myself, I understand the hassle of having to manually share and promote each published article on our socials, but why do it yourself when Missinglettr can do it for you? Powered by AI, the tool scrapes your blog posts and create a year's worth of custom social posts to promote your content. As soon as an article or blog post is published, Missinglettr gets to work on coming up with posts filled with quotes and images for you to review and instantly post online. Upload your own templates to reflect your own writing style, amend your schedule to your liking, and post away!
Mention lets you monitor the internet for any mention of your brand, your competitors, or any other keywords you'd like to analyze. This is a great way to get insight into what people actually think of your brand, which in turn can guide you to the right direction of your social media strategy. The tool also allows you to measure your online social impact and take a look at the analytics of your audience. They also have a content curation and scheduling feature, which lets you plan out your content ahead of time.
AdEspresso is an ad campaign management tool, allowing you to create and manage campaigns for each of your social channels, as well as analyzing the results of each campaign to get actionable insights and see which fares better. AdEspresso supports Facebook, Instagram, and Google Ads, so you can manage all your ads in one place. They even provide resources, webinars, and video courses to help you hone your skills in online advertising and learn from marketers globally.
Sprout Social is an all-in-one platform for you to manage your all of your social media pages in one place. The tool allows you to schedule posts, plan your marketing calendar, look at stats on each post to see which are doing well (and which aren't), combine messages from all your socials to one inbox, track keywords and hashtags, analyze social trends and competitor benchmarks, and even has a CRM system to help you connect with your audience and provide them with a great brand experience.
Now that you have these tools under your belt, marketing on social media should be a breeze.
ThunderQuote is the most comprehensive business services portal in Singapore, Australia and ASEAN , where hundreds of thousands of dollars of procurement contracts are sourced every month by major companies like Singapore Press Holdings, National Trade Union Congress and more.